Why invest?
More than 99% of the wines are produced to be consumed quickly. Investing in wine means investing in an exceptional product, which accounts for less than 1% of wine production by volume.
The great investment wines respond to a specific economic logic:
1. A very strong international reputation
The Grands Crus (Mouton-Rothschild, Pontet-Canet, Angélus, ...) are known to fans all over the world.
In Bordeaux, the Châteaux have large areas, often 10 to 80 hectares (by comparison the plots rarely make more than a few hectares in Burgundy). These lands allow sufficient harvests for an audience that goes beyond a small circle of initiated amateurs. The Castles produce, but sell very little directly. A large part of the distribution is carried out by merchants from the Place de Bordeaux who have their own distribution channels and have the ability to trade among themselves. So there is a second market in the Place de Bordeaux.


3. An extremely readable ranking
The classification of the Grands Crus is official and the number of appellations selected is stable and known, 88 castles for the classification of 1855 and 68 castles for the classification Saint Emilion 2012. The choice to invest in Grands Crus is therefore made in a defined universe.
4. The quality of the vintage
All Grands Crus are rated by experts, known as critics. The best known are James Suckling, Neal Martin, Antonio Galloni and Jancis Robinson. These notes, which are decisive when the clientele is international, are references. Thus, Patriwine does not select any Grand Cru with a rating of less than 90/100.
5. The valuation of Grands Crus
Among the various publicly available valuations, Patriwine uses the average price set by the "Wine Decider" database to determine the Estimated Value or Estimated Valuation of a Wine. This information is available at all times in the Customer's personal space. It will be updated on the last day of each month by Patriwine.Wine Decider is a price comparison of all offers available on the market for a given wine (about 250 traders, professionals, websites and retailers). Its update is daily. The base lists more than 100,000 wines. The Wine Decider comparator thus establishes an average market price at a given moment from the offer available on a wine. Patriwine considers the average price of Wine Decider to be a reliable indication of the value of a Grand Crus at any given time. Patriwine reserves the option to switch data providers at any time. In this case, Customers will be informed. Patriwine, however, draws the Customer's attention to the fact that the average monthly Wine Decider price is not an official listing.

Bordeaux red wine market indices in M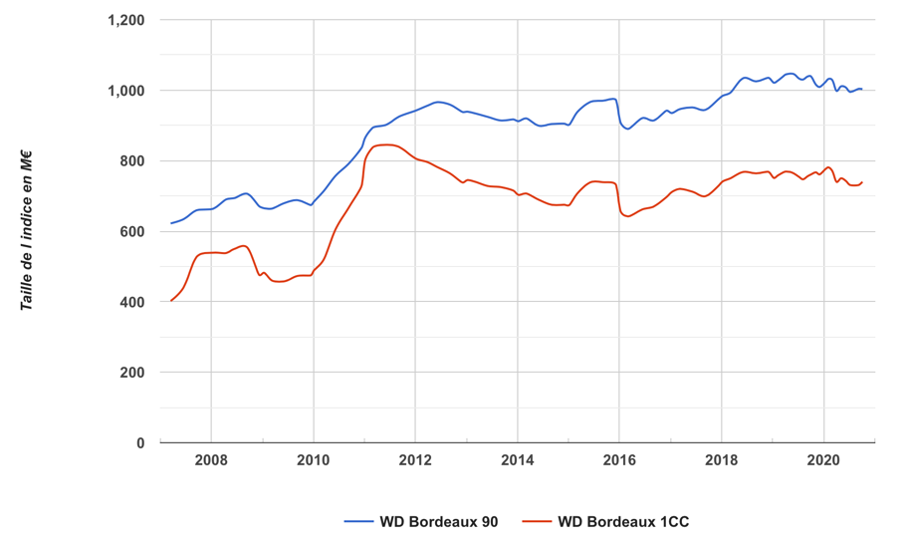 FOR MORE INFORMATION, PLEASE CONTACT US ON 05.57.29.20.20 OR VIA OUR CONTACT FORM.